New Feature Update
Quickly view your most profitable and fastest paying customers
With our Business Performance Dashboard, you can keep track of the most critical measures to run your business, including past job performance and margin, a summary of your account balances, and your total factored revenue. Identify at a glance your most profitable, fastest paying, and slowest paying customers, as well as your most frequently used carriers. Save time managing your broker operations and spend more time running your business.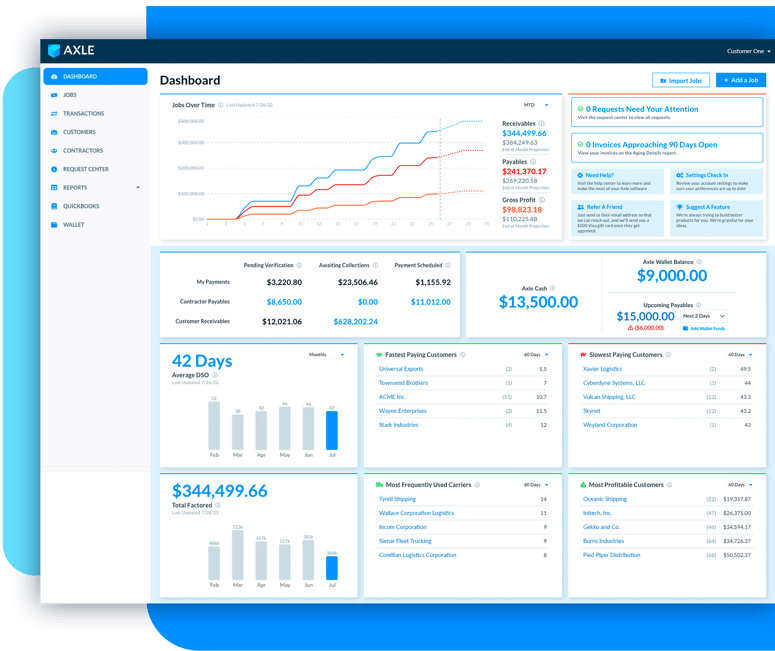 Book Your Demo
Get started with Denim
Denim is the all-in-one financial platform for modern freight brokers. Hundreds of freight brokerages trust Denim to manage their working capital, carrier payments, and back office processes. Start using our full suite of free tools today (your access never expires!), or get a demo of our complete set of premium products.
With Denim you can:
View your business health from one convenient dashboard, including your most profitable loads from the last 30 days
Integrate with your TMS and QuickBooks so you can process jobs quicker
Pay your carriers quickly and keep them informed of their payment status with automated reminders
Seamless broker operations
What if you could save yourself the expense of a full-time operations team, while also having more cash available to grow your business? With Denim, you can! Time is money, and we can save you both.
Whether you're a startup freight brokerage or are established and expanding, our platform is made to grow with you. Plus, it's free to sign up and we don't lock you into annual contracts.

We're here to help! Contact our sales team directly sales@denim.com