New Feature Update
Quickly view your most profitable and fastest paying customers
With our Business Performance Dashboard, you can keep track of the most critical measures to run your business, including past job performance and margin, a summary of your account balances, and your total factored revenue. Identify at a glance your most profitable, fastest paying, and slowest paying customers, as well as your most frequently used carriers. Save time managing your broker operations and spend more time running your business.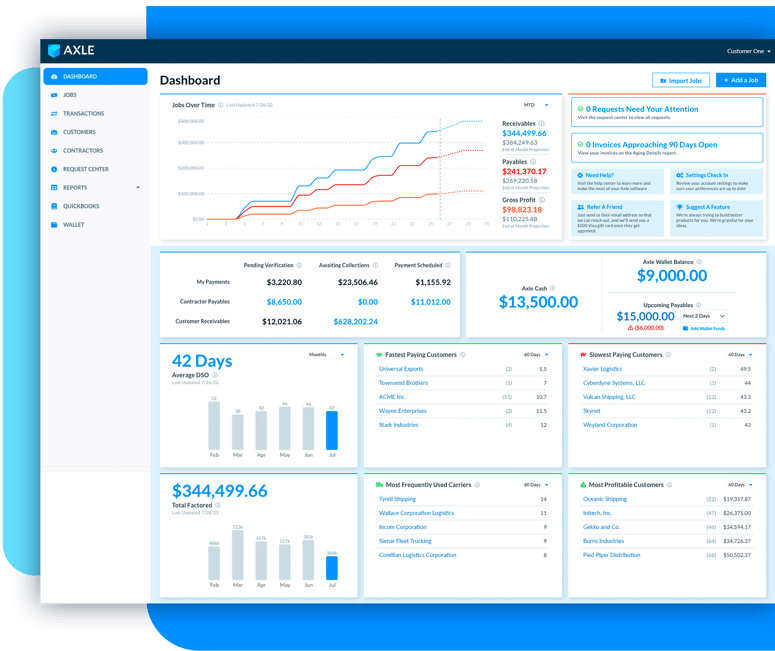 Competitive insights for freight brokers
Freight Broker Pulse Report
Gain insights into what brokers are doing right now, including important statistics around operations, software tools, payments, growth planning, and market expectations.
Despite rising concerns over diesel prices, trucker shortages, and haul rates, 84% of freight brokers feel optimistic about their business outlook over the next 12 months. In the latest Freight Broker Pulse Report, you'll get access to key insights on the state of the industry as it is right now.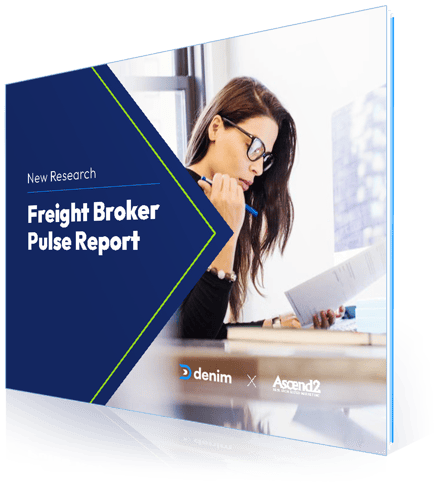 Operations is Costing Freight Brokerages Time & Growth
Over half (52%) of all respondents report that their organization spends 25% or more of their time working on broker operations.
To put that into perspective, freight brokers are spending approximately 520 hours or more a year on operations tasks, based on a 40-hour week.
Too Much Time on Operations
About half (49%) of all respondents feel that their organization spends too much of their time on broker operations.
Time is Money
78% of those surveyed agree that if less time was spent on broker operations, their business would be more successful.
Additional Findings from the Freight Broker Pulse Report
Insights on the best broker growth plans for 2023
Time-wasters brokers need to avoid
Stats on invoice factoring for freight and receivables
Must-have software tools top brokers are using
And more!
About the Freight Broker Pulse Report
To create this report, Denim worked with Ascend2 - a research-based marketing firm. Ascend2 benchmarks the performance of business strategies and the tactics and technology that drives them. With a custom online questionnaire, our "Freight Broker Operations" survey was fielded during the month of August 2022. We collected responses from 168 employees of freight brokerages located in the United States that have brokered at least one load in the previous 30 days at the time of the survey.
About Ascend2
Marketing technology companies and digital marketing agencies partner with Ascend2 to create compelling original research that supplements their marketing content, generates leads, and engages prospects to drive demand through the middle of the funnel.
About Denim
At Denim, we've made it our mission to advance the supply chain by accelerating the movement of money and data. The Denim team of experts includes exceptional software engineers, freight and logistics industry veterans, world-class customer service staff, and some of the most knowledgeable sales consultants in the industry.
Denim is a financial enablement platform for the logistics industry that offers an ecosystem of intelligent financial products, operations tools, and time-saving automation. Its proprietary technology enables freight brokers to simplify their financing operations and easily access the working capital they need to grow in the competitive, $2 trillion logistics market.
Denim automates invoicing, collections, and payments — ultimately reducing daily payments and collections tasks by 75%.
What Brokers are Saying About Denim
Read about some of our most successful freight brokerages and why they love Denim. Spoiler alert: one broker now spends 12 minutes invoicing instead of 2+ hours!
"Two words... AS ADVERTISED! We would have absolutely no reservations about referring Denim to anyone."