New Feature Update
Quickly view your most profitable and fastest paying customers
With our Business Performance Dashboard, you can keep track of the most critical measures to run your business, including past job performance and margin, a summary of your account balances, and your total factored revenue. Identify at a glance your most profitable, fastest paying, and slowest paying customers, as well as your most frequently used carriers. Save time managing your broker operations and spend more time running your business.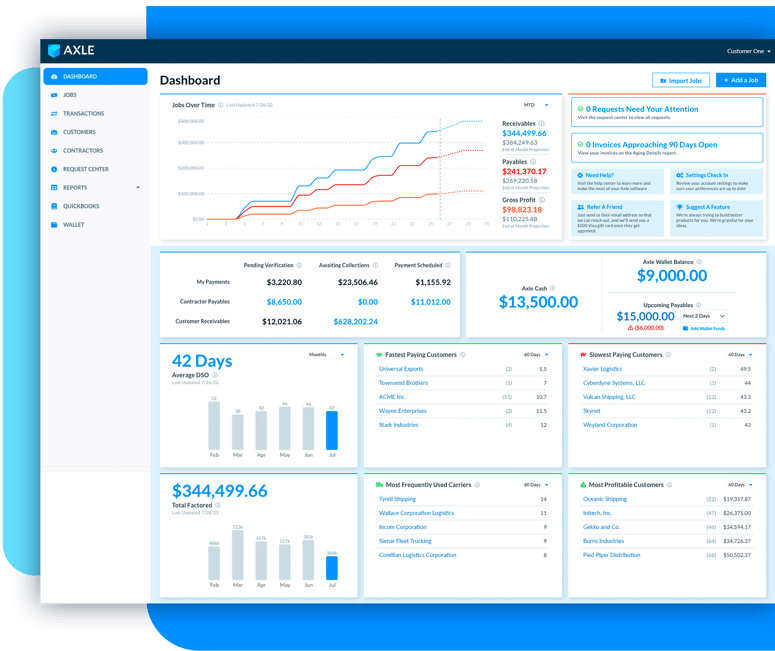 Nominations are now open.
SmartBroker of the Year Award 2023
This award honors the brokerage that demonstrated the SmartBroker mindset of continuous improvement and growth in the previous year.
Nominations for the 2023 SmartBroker of the Year award are now open. Learn more below and register for updates on the award process and ceremony.
Submit your nominations here.
Fill out the form below to nominate your choice for SmartBroker of the Year for 2023.
What is a SmartBroker?
A SmartBroker is a modern freight broker that makes use of advanced logistics technology and business practices. They are experts with a growth mindset who leverage that tech for operational excellence - creating deep relationships. And they are comfortable with change, not only embracing the industry transformation but actively pursuing it.
2022's winner of the award, Dale Prax, is a 30-year industry expert who founded Direct Expedite in 2019. Direct Expedite is on a mission to revolutionize the ground-expedited transportation process to provide best-in-class deliveries for time-sensitive freight. Last year, Direct Expedite's patent-pending Automated Freight Quoting System received a milestone of 15,000+ rate searches. Additionally, while growing its customer base and significantly increasing revenues, Direct Expedite leveraged its streamlined, technology-powered operations to move to a 4-day work week resulting in improved productivity and employee morale.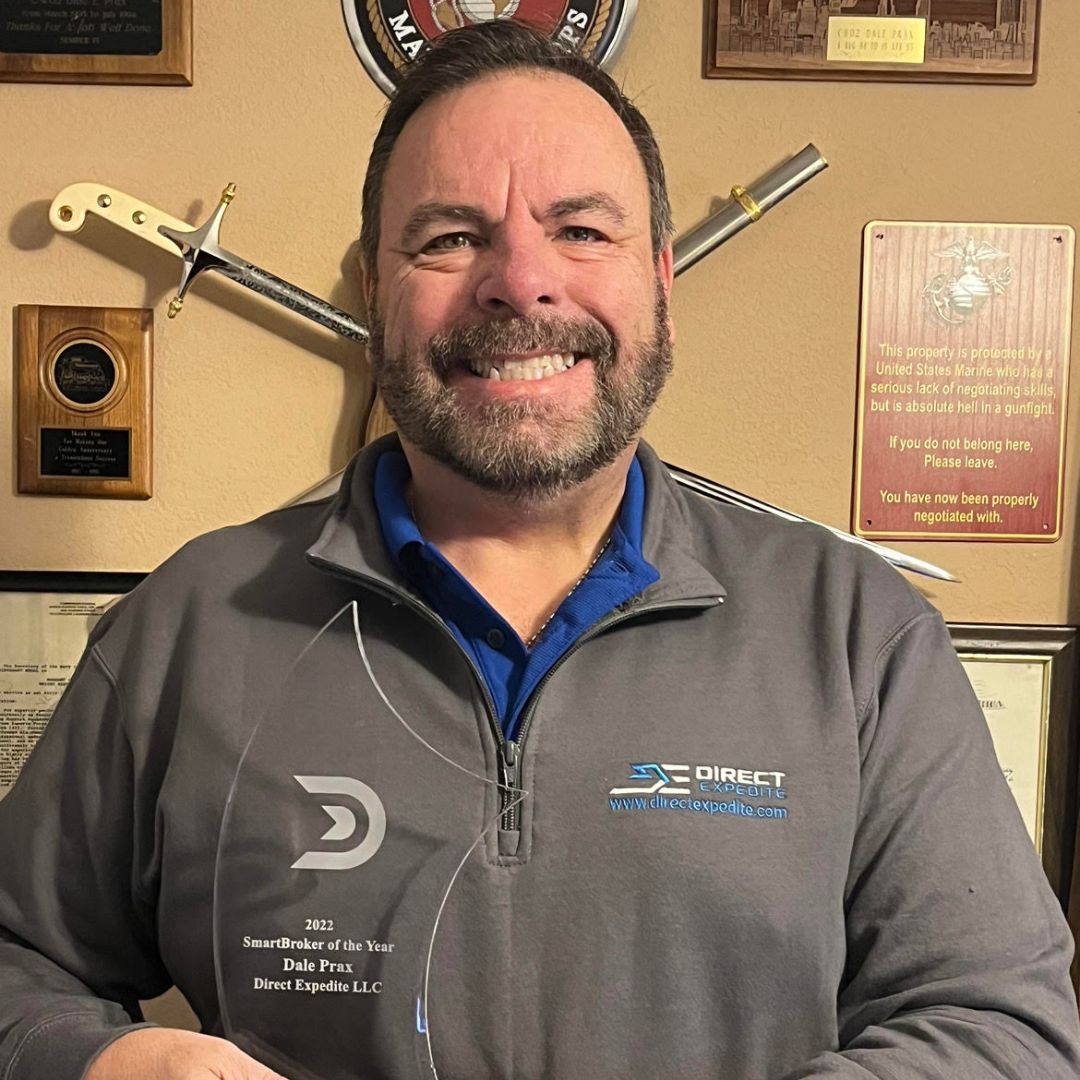 The Difference Between Traditional Brokers, Digital Brokers, and SmartBrokers
SmartBrokers differentiate themselves from traditional brokers and digital marketplace brokerages as responsive and modern partners for shippers – offering an unparalleled customer service from blending new business technology with human professionalism.
Traditional freight brokers may not have the same level of technological capabilities or emphasis on carrier satisfaction. They may also be more rigid in their business practices and less adaptable to changing market conditions. Traditional freight brokers have been around for many years and typically operate through a network of established relationships with carriers and shippers. They might rely on manual processes, such as phone calls and faxes, to communicate with their clients and carriers and negotiate rates.
In contrast, SmartBrokers are agile and flexible, with the ability to quickly adapt to new technologies and changing customer needs. SmartBrokers take a more proactive approach towards building their business, actively seeking out the best options for their clients and negotiating rates with carriers on their behalf.
Denim is your secret weapon
With over 60+ 4.8-star reviews on TrustPilot, it's clear that freight brokers just like you trust Denim when growing their brokerage. Read what they have to say.
"Two words... AS ADVERTISED! We would have absolutely no reservations about referring Denim to anyone."
Who We Are
Trusted by the freight broker industry
400+ happy clients
We continue to grow our roster of startup brokers and love being their financial partner.
$300M+ payments processed
We can maximize your cash flow and get you more cash, quicker.
< 24 hour average funding time
Offering quick and efficient payments will help set your startup brokerage apart.